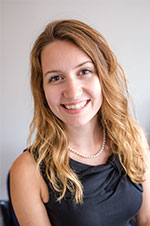 Madyson Rice is a native to the Broome County Area, residing in Endicott most of her life. She has a passion for helping others, with a decade worth of leadership and managerial experience she decided to change her career paths and focus on law.

She returned to College to pursue Paralegal Studies.While in college, Madyson became an official notary for New York State in 2016. Madyson graduated with honors from Broome Community College in 2017 earning a Paralegal Associates Degree and a Paralegal Certificate. While returning to school she was offered an Internship for Robert S. Beehm's law office, which then turned into a part-time paralegal position.

She is ecstatic to now be working as the full-time paralegal position for the Robert S Beehm Team. Her management experience has been helpful with the transition to a new career, as the time management, technology, and customer service skills are valued in the law field.

She looks forward to meeting and working with you!